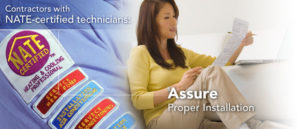 If your home's HVAC system is having issues, there are several reasons why it is important to hire a certified HVAC technician.
Top Two Reasons Consumers Hire Particular HVAC Companies
According to a recent Decision Analyst study, the top two reasons consumers hire an HVAC technician or HVAC contractor are:
A Contractor's Good Reputation, and
Certified Technicians.
There are numerous HVAC certification agencies in the United States. One of the most reputable is North American Technician Excellence (NATE).
NATE certified HVAC technicians have demonstrated their knowledge of today's increasingly sophisticated heating and cooling systems by passing a nationally recognized test developed and supported by all segments of the heating, ventilation and air-conditioning industry.
Certification Offers Assurances
Consumers can rest assured that with a NATE certified technician, they are getting the best installation and service for maximum comfort and economy in their heating and cooling system. Better installation and service mean a longer life for your heating and cooling equipment and increased energy efficiency.
If you are about to make a major investment in a new home comfort system, it means you should protect that investment in every way possible—from installation to service and maintenance. That's where understanding the importance of certified technicians could save you a tremendous amount of time and money.
Choosing to use an HVAC technician or contractor who is not certified could lead to issues where individuals performing work on your home's comfort system are not fully trained with regards to today's more complex and energy efficient systems.
Garrison Only Employs Certified Technicians
For more than 45 years, Garrison and Garrison Heating and Air has earned the reputation as the most trusted heating and air conditioning company in Madison County. Garrison and Garrison only employs technicians who are NATE certified.
When it's time to replace or repair your home's comfort system, give us a at 256-859-8500 or email us at [email protected]. Garrison and Garrison is a fully licensed and insured HVAC contractor located in Huntsville, Alabama.