Consumer Reports Rates American Standard Best Value
Consumer Reports has recently come out with their reviews of the nine most popular brands of furnaces, air conditioners and heat pumps based on over 55,000 responses from readers and hundreds of conversations with HVAC contractors in the past seven years.  The nine (two duplicate brands so actually seven) were:  Trane / American Standard (same system, different name); Carrier / Bryant; Lennox; Rheem; Amana; Goodman; York.  The rankings for these units were:
Gas Furnace – Rankings #1, #2 with 12% defect rate; lowest score of 9 was 26% defect rate
Air Conditioner – Rankings #1, #2 with 11% defect rate; lowest score of 9 was 19% defect rate
Heat Pump – Rankings #1, #3 with 17% defect rate; lowest score of 9 was 17% defect rate
These rankings are clearly both impressive and statistically significant.  Considering costs to repair in the hundreds, even thousands, there is significant value to the consumer to paying a little extra for a superior unit (and American Standard / Trane units are indeed more expensive than the other 7 brands listed on an apple-to-apple basis).
Other conversations or note discussed by Consumer Reports were:
'Do it yourself' types, when trying to solve problems before hiring a professional HVAC service company should: make sure filters are clean; check electrical breakers/fuses; check low voltage wiring to thermostat; and ensure outdoor units are not clogged with brush or debris.
New units are up to 40% more efficient than older units; leaky or uninsulated ducts can lose 40% of heat or cooling or more. New systems that are professionally installed can provide excellent reductions in utility bills and pay for themselves, in addition to lowering the building's carbon footprint (for those who have global environmental concerns).
Systems need to be sized properly. Too small and the unit will be overworked and not cool or heat properly.  Too large and the system cycles too frequently causing shortened life, greater need for repairs and duress on the air distribution system.  If uncertain on sizing the HVAC contractor needs to perform a Manual J heat loss/gain calculation.
There is a strong correlation between repair frequency and the quality of the installing company. Companies who specialize in new construction (which is a notoriously low price driven market) have almost double the repair rate than qualified retrofit HVAC specialists (which is what we are, we do not do new construction as we refuse to hire semi-qualified HVAC technicians who work piece rate and take short cuts).
What was NOT Said
What was not said was that Trane / American Standard have the most stringent standards for their qualified HVAC installation and service companies.  This is especially true for their Comfort Specialist designee firms that have reached the highest accreditation, of which Garrioson & Garrison is proud to be a part of.  In addition to having the best made heating and cooling equipment, American Standard aligns themselves with the best folks to work with to make sure their systems are cared for properly.  We are very proud to be among this 'chosen few'.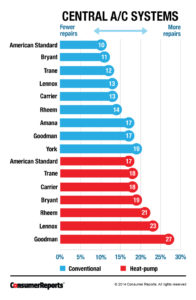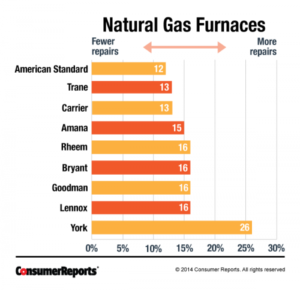 2014 Consumer Reports Ratings