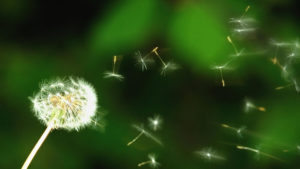 Soon, the weather will finally turn warm and stay that way for several months. Warmer weather means trees and flowers blooming. Trees and flowers blooming means our cars, driveways, patios, rooftops and anything else exposed to the outside elements will be covered with pollen. There are several things you can do to help protect your home's air quality during allergy season.
Change Your Air Filter(s) Regularly
First and foremost, change your comfort systems air filter(s) on a regular basis. Your air filters do just that: filter air. During the heavy pollen season, air filters can become clogged with pollen, animal dander and other pollutants much faster than at normal times of the year. Change your air filter at least every month.
Keep Inside Surfaces Clean
Second, make an effort to keep the surfaces of the inside of your home cleaner during this time of year. Vacuuming carpeting and flooring more often will keep air pollutants inside your home to a minimum. Keeping counter tops, furniture and other flat surface areas clean will also cut down on allergens remaining in your home.
Keep Inside Pets Cleaner
Third, make sure any inside pets are kept clean via washing and brushing their coats. Inside animals, particularly dogs, have to go outside periodically and they will bring pollen and other pollutants into your home. Keep their beds and sleeping areas clean. If they spend a good bit of time on sofas and chairs, make sure to vacuum those areas regularly. If they sleep with you, wash your bed linens more often during this time of year to help eliminate inside allergens caused by pets.
Spring time is a natural shedding period for animals. If you have inside pets, they will most certainly be leaving behind more dander, loose hair and other air pollutants associated with their skin during this time of year. Make an extra effort to clean up after them.
Invest in an Air Filtering System
Fourth, consider investing in an air filtering system such as an American Standard Perfect Fit Air Cleaner. Perfect Fit Air Cleaners clean the air in your home your family breathes every day. The American Standard Perfect Fit Air Cleaner filters the air and traps household allergens such as pollen, pet dander, and dust mites. Find out more here https://garrisonandgarrison.com/products/zoning-air-quality/.
Call Garrison & Garrison
If you have questions about your home's inside air quality, give Garrison and Garrison Heating and Air a call or email us at [email protected].
Garrison and Garrison is a fully licensed and insured HVAC contractor serving Huntsville and the Tennessee Valley. During our 45 year history, we have earned the reputation as being Madison County's most trusted heating and air conditioning company. And, we're still going strong.