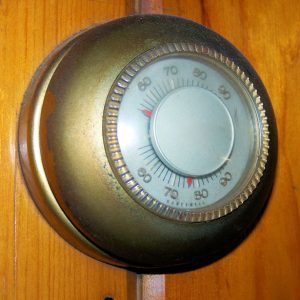 Why replace your home's old thermostat? There are several reasons why you should, especially if you still have one of the old "dial type" thermostats.
Think about this: Are you still using the first computer you ever bought? Think about the advances in technology that's been made from the old Commodore 64 to today's computers. Even the Apple Smartphone has only been around a little over ten years.
So, if your home has the same old thermostat operating your home's comfort system, even if your home was built within the past ten years, replacing your old thermostat with a programmable thermostat can save you a good bit of money on your energy bills.
Programmable Thermostats
Programmable thermostats such as the Nexia Home Intelligence Thermostat allows you to control the
temperature of your home directly from your smartphone or tablet.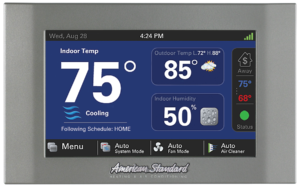 Suppose it's the dead of winter and you want your home to be warm when you get home. You can accomplish this task with this type of thermostat. And your heating system won't be running all day which will save you money.
The same holds true for summer days, allowing your home to cool off as you make the drive home.
Programmable thermostats not only allow you to control the temperature in your home from basically anywhere in the world, but they also allow you to pre-set your home's comfort level based on your lifestyle and your routine.
Programmable Thermostats Adjust to Your Routine
If you leave your home for work or school at the same time most days, and arrive home at the same time each day, having a programmable thermostat allows you to automatically adjust the temperature in your home based on your routine.
Studies have shown having a programmable thermostat saves the average homeowner 10 to 15% on their energy bill. Let's face it: we've all been in a rush to leave for work or school in the morning and forgotten to adjust the air conditioning or heat setting on our thermostat.
True Savings
Let's say your average heating/ cooling bill is $250 per month. At year's end you will have spent $3000 heating and cooing your home. If a programmable thermostat can save you 10% on your heating and cooling bill, over the course of a year your energy (and $) savings would be $300. A programmable thermostat will virtually pay for its self within the first year.
If you have questions or would like more information about installing a programmable thermostat in your home, give Garrison and Garrison a call at 256-859-8500 or email us at [email protected].
Garrison and Garrison Heating and Air is a family owned, licensed and insured HVAC contractor located in Huntsville, Alabama. We've been serving Huntsville and the Tennessee Valley for more than 45 years.