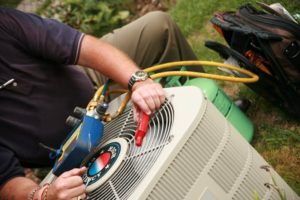 This story is about as old as anything mechanical. If you wait until something breaks, it's going to cost more, sometimes a lot more, to repair it.
Let's take for example, your automobile. If you change the oil in it regularly, keep it maintained a little bit at a time, chances are very good you will never have any major repairs that have to be done other than basic repairs such as replacing brakes and tires, etc.
If you neglect the oil changes, chances are almost certain that come one day, you'll have to replace your engine. Which is cheaper: changing your oil every 5000 miles or so or replacing your engine?
Your Home's HVAC System Is Expensive to Replace
Your home's comfort system should fall into the same servicing thought process as keeping your vehicle serviced. Even though we might not think about it everyday like we do our cars, your home's HVAC system is a very expensive part of your home.
It just makes sense to service it regularly just as you would your car. A routinely serviced HVAC system will insure proper operation, catch minor repairs before they become major expenses, keep your system operating at top efficiency and keep your system clean.
The Garrison and Garrison Priority Plus Plan
Garrison and Garrison Heating and Air offers you their Priority Plus Plan https://garrisonandgarrison.com/services/maintenance-program/. For a small investment, these items will be inspected two times per year:
Air filters and accessories
Electrical connections
Electrical controls
Clean evaporator coil
Clean condensate pan
Clean condensate drain
Apply algaecide pellets to condensate pan
Clean condenser coil
Refrigerant charge
Motor bearings and lubricate
Furnace operation sequence
Burners and heat exchanger
Inspect flue pipe
Supplemental heat and controls
Blower assembly for cleanliness
Thermostat and cycle system
Running amperage
Fan belts
Insure proper air flow
How much is "a minor investment"? $150 per year. That works out to only $12.50 per month or about 41 cents per day to have the peace of mind of a smooth running HVAC system.
Contact Us
If you want more information, give us a call at 256-959-8500 or email us at [email protected].
Garrison and Garrison is an award winning licensed and insured HVAC dealer, serving Huntsville and the Tennessee Valley for more than 45 years. Feel free to contact us at any time concerning your home's comfort system.