The Ultimate Fall Checklist for Your Home & Your Family
After months of hot, humid weather in Madison County, we're more than ready for fall. Bring on the cooler weather, changing leaves, fall festivals, and pumpkin spice candles! But, while you might be ready for cooler weather, your home might still need some TLC. If you're looking for fun fall activities to do with family and friends, or if you're looking for ways to prepare your home for the season, read on!
Things To Do
If you're looking for some fun ideas for the whole family to do together this fall, keep some of the activities listed in the photo above in mind! Some of our favorite activities to do with our family and friends this fall are finding our way through a corn maze, cuddling up and watching a good movie, and of course, having a pie bake-off. YUM! Print this graphic off and stick it on the fridge so whenever you're looking for something to do this fall, you'll know where to look!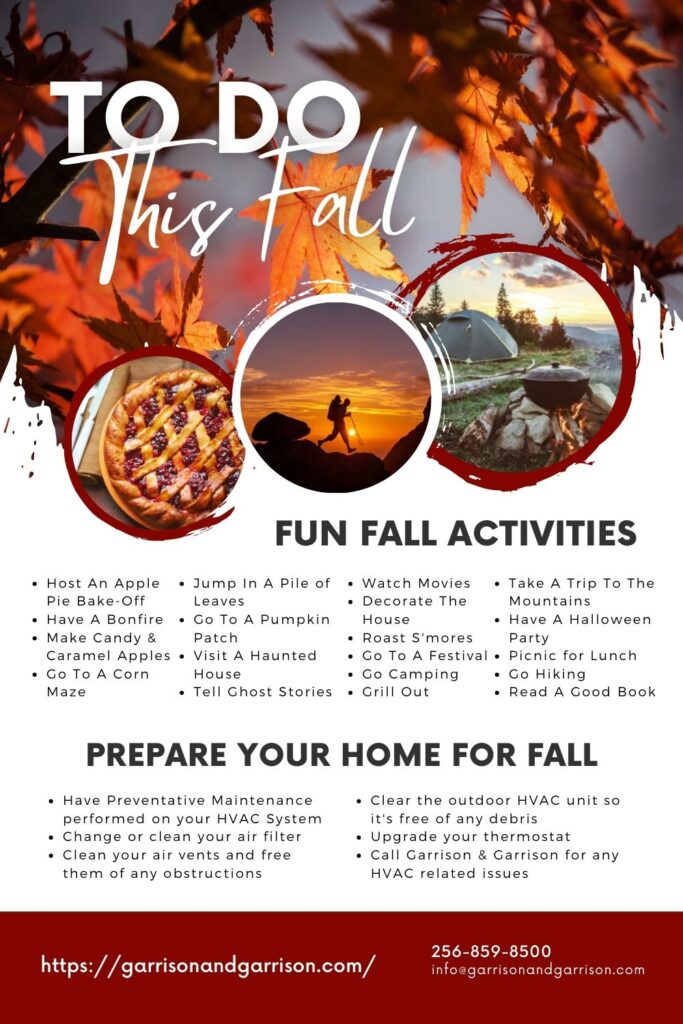 While the weather outside may get cold this winter, you can rest easy knowing your home will stay warm and cozy inside when you follow these fall HVAC maintenance tips:
1. Change or Clean Your Air Filter
Over a short period of time, our air filters go through A LOT, especially during the summer. Now that cooler weather is setting in and you'll be using your home's heating source for the first time in a while, changing or cleaning your air filter is one of the most important steps to ensure your system performs as it should. A clean air filter also keeps your comfort system running more efficiently throughout every season. 
2. Clean the Air Vents
Your air vents have also gone through a lot over the course of the summer, so it's time to give them a good cleaning. Take them down, wash them in warm, soapy water, and replace them once they're dry. You'll experience better air quality and air flow with clean air vents.
3. Free the Outdoor Unit of Any Debris
Some leaves have already begun to fall in Madison County, and it's absolutely beautiful. What's not beautiful is when they gather on top of our outdoor HVAC system. Free your system of leaves, limbs, and other debris regularly to ensure your system continues to operate properly.
Programmable thermostats allow you to schedule your temperature settings according to your lifestyle. Without a programmable thermostat, you could be missing out on tons of energy savings. Invest in a programmable thermostat from Garrison & Garrison and one of our technicians will install and give you pointers on how to make the most of it throughout every season.
If your furnace or heat pump isn't keeping your home warm as the weather cools down, contact Garrison & Garrison. We specialize in heat pump and furnace repair, replacement, and maintenance. We also offer free in-home estimates on new systems because we want you to get the best service and the best system at the best value for your buck. Give us a call at 256-859-8500 if you need HVAC service this fall or winter.
Other Home Maintenance Tasks
While your furnace or heat pump will have the biggest impact on your comfort this fall and winter, there are other aspects of your home you should also prepare for the cooler weather. 
1. Check Your Fireplace
You probably haven't used your fireplace since last year, so before lighting it up for the first time this season, a fireplace inspection is necessary. While you can check it yourself, you may want to hire a professional to ensure the safety of your home and your family this season. If you're looking to do it yourself, click here for a helpful article to get you started.
You should also follow these home heating fire prevention tips to keep a safe home environment this season. 
2. Check Your Home's Insulation
Ensuring your home is insulated properly is important in staying comfortable and saving energy during any season. Before the weather gets too cold, check your attic for sufficient insulation. Since heat rises, if your attic is not properly insulated, you could lose heat and waste money this winter. Follow our helpful article What Type of Insulation Should I Use In My Home for some great DIY insulation information.
3. Test Smoke & Carbon Monoxide Detectors
Carbon monoxide leaks are most common in the fall and winter months as our furnaces are running full blast. Ensure smoke and carbon monoxide detectors are working properly by replacing batteries and testing the equipment. 
If you suspect your furnace is failing, click here for some helpful information regarding the signs and solutions of furnace failure.
4. Check For Drafts Around Doors & Windows
Checking doors and windows is another great way to ensure you're not wasting energy or hindering your comfort this season. Check doors and windows for drafts, cracks, openings, or signs of deterioration. Use caulk where applicable, or replace doors and windows that may be too far gone. For more tips on preparing your home for cooler weather, read our helpful article 7 Best Tips for Winterizing Your Home.
What's Next?
If you need furnace or heat pump services this winter, contact Garrison & Garrison! Our professional staff is trained to service all furnaces and heat pumps. We can also answer any questions you might have and make recommendations for the best HVAC solutions for your home.
Garrison & Garrison is a trusted American Standard Heating & Air Conditioning Customer Care Dealer in Huntsville, AL. Call us at (256) 859-8500 or email us at [email protected] with any questions or for more information. ultimate fall checklist ultimate fall checklist ultimate fall checklist ultimate fall checklist