Red White and Blue Desserts 
As we celebrate July and all things Red, White, and Blue, what better way to showcase our love for the USA than through delightfully sweet culinary creations? From vibrant fruity treats to decadent desserts, these colorful recipes not only pay homage to our nation but also tantalize our taste buds with their delicious flavors. So let's embark on a culinary journey and explore some enticing red white and blue desserts that are perfect for any patriotic occasion. 

https://bromabakery.com/red-velvet-cheesecake-brownies/
A harmonious blend of rich chocolate and creamy cheesecake, these red velvet brownies are an irresistible treat. The deep red color is perfect for your patriotic spread. Swirl in a luscious cream cheese mixture before baking for a marbled effect that adds an elegant touch to this decadent delight.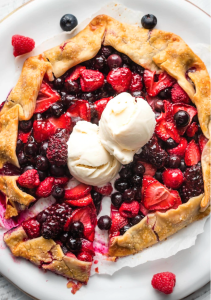 This rustic French dessert brings together the natural sweetness of blueberries and raspberries in a buttery, flaky pastry. The vibrant red and blue berries peeking through the golden crust make for a visually stunning centerpiece. Serve with a dollop of whipped cream or a scoop of vanilla ice cream for a delightful finish.

https://belleofthekitchen.com/patriotic-ice-cream-sandwiches/
Take your classic ice cream sandwich to the next level by using red velvet or strawberry cookies and vanilla ice cream. Roll the edges in blue sprinkles or crushed blueberries to create a festive touch. These frozen delights are perfect for cooling off on a summer day.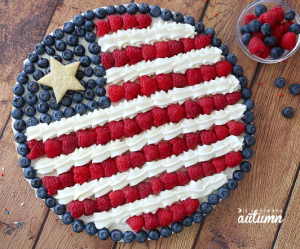 https://www.itsalwaysautumn.com/easy-delicious-american-flag-fruit-pizza.html
Put a fruity spin on the American flag with this delightful dessert pizza. Spread a sweet cream cheese or yogurt-based sauce over a sugar cookie crust and arrange slices of strawberries, blueberries, and bananas in the shape of the flag. The result is a stunning and delicious treat that's perfect for patriotic celebrations.

https://www.sweethazelhoney.com/2022/06/patriotic-red-white-and-blue-mini.html
Bite-sized delights that are perfect for any occasion, these star-spangled mini cheesecakes are a must-try. Prepare a graham cracker crust, fill each muffin cup with creamy cheesecake batter, and bake until set. Once cooled, top with a layer of red and blue fruit such as raspberries and blueberries. The result is a charming and delicious treat that everyone will love.
Try These Patriotic Delights!
These 5 red, white, and blue desserts are not only delicious but also visually stunning, making them perfect for any occasion. From classic favorites with a twist to creative new creations, these treats will add a touch of festive flair to your celebrations. So, grab your apron, gather the ingredients, and embark on a sweet journey as you indulge in these patriotic delights that celebrate the spirit of unity and pride.
Contact Us
At Garrison & Garrison, your comfort is our guarantee! Keep your home cool and cozy all summer long, so whatever the occasion, you and your family will be comfortable! 
If you're in need of any HVAC system services, be sure to visit our website to learn more about our services. We are happy to help you with any questions and your HVAC needs. Do not hesitate to call us at 256-859-8500.
Garrison & Garrison is a trusted American Standard Heating & Air Conditioning Customer Care Dealer in Madison County, AL. Follow us on Facebook and Instagram for more helpful home tips.