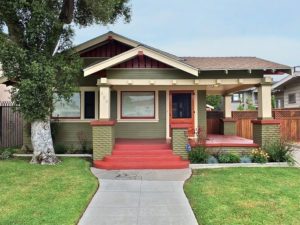 Keep Your Older Home Warm This Winter with These Tips
We love old homes because they are full of charm and memories, but they can also be a big headache to keep warm in the winter. Old homes tend to have issues with hot and cold areas throughout the home. If you're able to keep the temperature comfortable in your older home, you're likely paying more for it.
If you feel like your home is never quite warm or you're concerned about your heating costs, consider having an energy audit performed for your home. An energy audit will help you identify where most of your warm air is going and where cold air is entering.
Once you identify problem areas in your home, try the following tips to keep your charming older home warm.
Tip #1 Address gaps and holes around windows and doors
One of the cheapest and easiest ways to keep your older home warm is by caulking obvious holes around windows, sealing windows using a plastic sheeting kit, and adding drapes and blinds to seal in warmth.
If your windows aren't the problem and you find cold air spilling into your home or room from underneath your doorways, you can consider adding door sweeps to stop air from seeping under doors. You could also roll up a towel and place it under your door way.
Tip # 2 Add Insulation to your home
Older homes are sometimes insulation-free or insulation-light. Adding insulation material can help you retain heat. However, you want to be careful when adding material to your home. Improper insulation can cause moisture build-up in your home and cause other issues for you in the long-run. Trained installers can help you properly insulate your home for a warm home that's headache free.
Tip #3 Install a Programmable Thermostat
Even the older homes on the block can be retrofitted with smart technology. A programmable thermostat can help keep you warm while you're home and save on energy costs while you're away. It can also give you an idea of your home's heating needs and can help you determine a need for further insulation.
Tip #4 Add Radiant Floor Heating
Radiant floor heating is a quiet solution to consistent warmth throughout your home. It allows you to warm the actual structure of the house, and –added bonus—you'll never have to step on ice-cold floors again!
Tip # 5 Upgrade your fireplace
There's wood burning on an open fireplace as you and your family snuggle under blankets with cups of piping hot chocolate. It's a tale as old as time and a memory many of us hold near and dear, but the romanticized fireplaces we once depended on for heat are no longer practical solutions for many. If you want to keep the look your fireplace offers your living room, consider an electric heat insert with faux flames and upgrade to an HVAC system that suits your homes needs.
Garrison and Garrison Heating and Air is available to answer any questions you might have about keeping your home more comfortable. Garrison and Garrison has been serving Madison County and North Alabama for more than 45 years, and we're still going strong.